Cost-Effective Cemetery Management Solution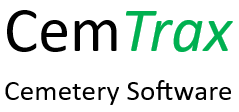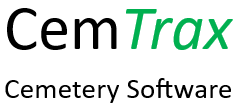 CemTrax comes in the following two versions:
* The map setup fee varies depending upon the size and layout of your cemetery. Many cemetery layouts will require multiple maps within CemTrax. The first map in CemTrax is included for free. Each additional map required (or requested) within CemTrax is an additional $125. Example:: A cemetery requires three map tabs in CemTrax to show the entire cemetery. The map setup fee would be $250.
** Microsoft Access databases do not allow for fully interactive mapping, so a static mapping feature has been designed specifically for CemTrax. CemTrax maps do not attempt to provide the same scale or accuracy of a surveyed map. Shapes on CemTrax maps cannot be rotated at an angle due to limitations of Microsoft Access.
*** A 6-month technical support period is included with the purchase of any CemTrax license. Afterwards, technical support is billed annually in the amount of $199 for CemTrax Basic and $249 for CemTrax Pro. Future billings may be canceled at any time.
IMPORTANT NOTICE: After careful consideration, Endres Reporting Solutions, LLC has made the decision to discontinue the CemTrax product line as well as future version updates. Current and potential CemTrax customers have been sent a Notice of Product Discontinuation. If you did not receive your notice, please contact Endres Reporting Solutions, LLC.