Cost-Effective Cemetery Management Solution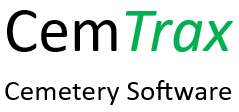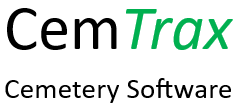 CemTrax is an application built using Microsoft Access and is designed to be the most truly affordable and user friendly cemetery software solution on the market today. Created for organizing the information of small to medium size cemeteries, CemTrax contains the most important features of top cemetery software programs without the prohibitive expense. In addition, it contains several features you may not find elsewhere.
CemTrax Basic tracks all important information about your cemetery and much more. With the user friendly interface, you can enter and search information, attach pictures, run reports, and create links to important documents. Click here for a full list of CemTrax features. A complete listing of every space in your cemetery is all the information necessary to get started with CemTrax Basic.
CemTrax Pro adds your cemetery map to the full feature set of CemTrax Basic. This scrollable, static map displays every space in your cemetery and is color coded to show the status of each. The size of your map will determine if it is necessary to split it into multiple parts within CemTrax Pro. CemTrax maps provide a convenient way to read summary information of each space and navigating directly to detailed information is just a click away.​
IMPORTANT NOTICE: After careful consideration, Endres Reporting Solutions, LLC has made the decision to discontinue the CemTrax product line as well as future version updates. Current and potential CemTrax customers have been sent a Notice of Product Discontinuation. If you did not receive your notice, please contact Endres Reporting Solutions, LLC.
CemTrax is designed for use with Microsoft's Access database software program. If you have Microsoft Office installed on your Windows based computer, you may already have Access included as part of that installation.
Microsoft Access 2016 or higher (32-bit only)

Microsoft Windows PC (64-bit recommended)

Internal network required for multiple PC licenses. Internet based networks not supported.

You must be able to successfully install and use the CemTrax demo in the same configuration as intended for the full version (Setup assistance is available)

A broadband internet connection is required for technical support screen sharing​
As the owner of Endres Reporting Solutions, LLC, I have over 25 years of computer programming and financial reporting experience. Before creating CemTrax, I spent several years developing cemetery software applications for another leader in the cemetery industry. My vision with CemTrax is to bring the best cemetery software program to those who recognize they do not need to pay for unnecessary features and want to stay within a budget.
I sincerely look forward to working with you and your cemetery. Please contact me to discuss how CemTrax can help manage your cemetery records. I welcome your thoughts and questions.
Data Migration and Data Entry services are also available.